This November 2018 KLC are celebrating 30 years in business, in the Kloof, KZN area. Paul Fenton (sole proprietor) purchased the business in November 1988, from an elderly man who started the shop and had only had it a couple of years.  Originally round the side of Maytime Shopping Centre in Kloof, and after being there for 8 years and outgrowing the premises enormously, Paul was very pleased to be able to rent off plan when the old Fields Hotel was being made into the all new Fields Centre.  He had it specifically designed with a ramp outside to allow the wheeling in of the Ride-On mowers, Golf Cars and other smaller lawnmowers, motorbikes etc, all of which they service and maintain.  He had a wash-bay built for the cleaning of this equipment during servicing.  Prior to the move, Sue, his wife, had joined him in managing the shop permanently, and is still a driving force behind the business.
So, after 22 years here, Paul is the only original shop owner in the Fields Centre, while many other businesses have remained in the centre they have all had changes of ownership.  Not only that, he is one of the only original business owners in Kloof.  KLC is very proud to celebrate their 30 years, and looks forward to many more years of servicing the local customers, and expanding their territory via the website.
Pop in to visit Paul or Sue for sound advice, good experience in the industry and best prices on lawn mowers, brushcutters, chainsaws, small battery-powered tools and many other power products listed around this website – take a browse.
  KLOOF LAWNMOWER CENTRE!!
Three of our staff members were recently awarded their long service awards.  Paul Fenton (owner) presented them with Certificates of Appreciation.
Christopher Mzobe – Workshop Supervisor – earned 21 YEARS at the end of 2016.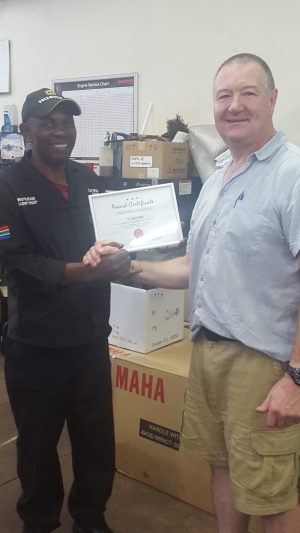 Christopher Farr – Workshop Assistant – earned 15 YEARS during 2018.
Bheki Magwaza – Workshop Assistant – earned 10 YEARS during 2018.
In association with Tandem, the donation of a new lawnmower chassis was made and we mounted TAWI's existing motor onto it to give them a bright new mower.
"Yesterday we eventually managed to get our awesomely wonderful early Christmas gift down to our Bush Camp. .. now we can get rid of some of the ticks in our long grass that get on the dogs that come here for treatment. Guys thank you so very much for sorting the whole thing out so professionally and well. … It is very appreciated.
Richard and the team from TAWI."
Let's hope the first spring rains come soon, after the dryness of Winter, the grass is dormant.  You won't have had to cut it much, but soon you'll need to get those electric or petrol lawn mowers out.  Make sure they're serviced and in good condition, ready to go.  Pop in to Kloof Lawnmower Centre for advice on what needs doing to your mower or brush cutter.
Perhaps you don't even have one – then we can offer you suggestions by asking you all the right questions about your property.  We'll find out your budget and match you up with the right lawn mower to suit your needs.
Exciting news!  The new SNAPPER products are arriving here in S.A.  The complete range being brought into our country will be here by the end of August 2017.
They have already launched their Classic RER100 rear rider mower.  The other two models in the ride-on mower range will arrive in August.
The particularly exciting products in their range is the Battery Powered Cordless XD 82V range, including the chainsaw, leaf blower, hedge trimmer, and string trimmer.  These powerful batteries are manufactured and backed by Briggs & Stratton technology.
Now that the weather is dry you will be mowing less frequently. If you fertilise in Autumn be aware that it will not have any effect until Spring. If you have been using a mulching mower (eg: Lawnstar UTE58), you should not need to fertilise. When you think it is the last cut of the season before settling into Winter, leave the grass cut slightly higher than normal.
Brush cutters and other gardening tools make it easier to keep your garden neat and tidy. Tools increase your efficiency and productivity in the garden meaning you can do more in less time. Gardening tools such as brush cutters, petrol lawn mowers, edge trimmers, chainsaws, leaf blowers and other gardening tools and accessories are ideal if you do not have a lot of time to prune and preen your garden. Large or small gardens need care and attention to ensure your flowers and plants are healthy to continue growing.  You should choose a brush cutter most suited for your needs, whether you'll be using it for trimming grass, small bush or under growth. If you need to clear very thick and rough or large areas, Heavy Duty Brush Cutters are a better option than just a grass trimmer. Brush cutters are usually a lot more robust and stronger as they come in different power outputs and engine sizes. This gives you more options when choosing brush cutters as you can choose one that is right for the job.  Brush cutters are versatile so you can also use the machine for clearing shrubs, thinning smaller trees, and undergrowth.  For comfort and safety, choose a brush cutter that has an anti-vibration feature. This can reduce tiredness in your hands caused by gripping the handle bars tightly. The vibrations use up more of your energy so an anti-vibration feature can reduce energy loss.