The Highway Mail, Lloyd Mackenzie 2 minutes read
The Hillcrest Conservancy was recently donated a heavy duty lawn mower to continue its necessary work in the area.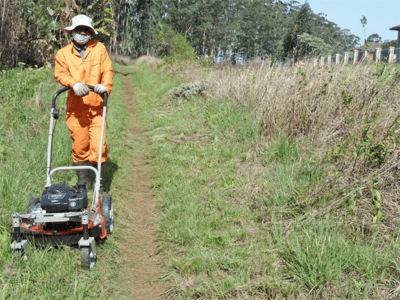 Thokozani Khoza from the Hillcrest Conservancy puts the machine through its paces on the cycle track.
AFTER the recent appeal for a heavy duty lawn mower in the Highway Mail, Kloof Lawnmower Centre rolled into action and donated one to Hillcrest Conservancy so it could continue its invaluable work in the Upper Highway area.
For the past 11 years, the conservancy has co-managed the rail cycle track through Hillcrest and, with the help of the heavy duty lawnmower, it will ensure the trails are regularly cut and safe for users.
Paul Fenton from the Kloof Lawnmower Centre spotted the article and promptly approached the conservancy with an offer to assist with the purchase of the machine.
"He has always been keen to support the use of our public open spaces," said the Hillcrest Conservancy's chairman, George Victor. "Many young families are now using the cycle track during the week, and the need to maintain this facility has become more important."
The cycle track now connects Kloof station to Botha's Hill (Mkhize Road), and has become an important area for outdoor activities that includes trail running and hiking.
Fenton also assisted the conservancy with the purchase of a brush cutter that Victor said has been invaluable as it has helped them control the areas where Bramble and other invasive bushes have spread.